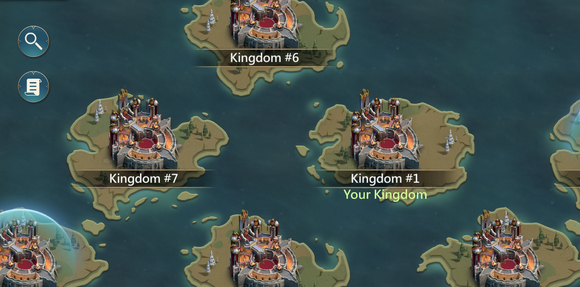 You can migrate kingdom after 75 days a Kingdom opens. To migrate kingdom go to your kingdom view (outside your castle, where you see monsters and rss harvesting points).
Tap on
, and then on

, you will see the map with all the kingdoms. Click the kingdom where you want to migrate. Choose a place, and a notice about the migration will appear, with the requirements to migrate. Essentially: 1. the kingdom must be open for migration. 2. Your army must be entirely inside your castle. 3. you must have the required number of migrant garnets (a special item you can either buy at the store or at the guild shop, for 1,150,000 guild coins).
When you migrate, you will have a rank on the kingdom based on your might. If you are going to be in the top 50, you will need more than one migrant garnet (for example, if you are going to be rank 1, you will need 90 migrant garnets, for rank 2, 75 migrant garnets, and for rank 3, 50 migrant garnets). If you are not going to be in the top 50, then you will need only one migrant garnet.
Migration Cost
| Rank in new Kingdom | Migrant Garnets required |
| --- | --- |
| 1 | 90 |
| 2 | 65 |
| 3 | 50 |
| 4 | 35 |
| 5 | 30 |
| 6 | 28 |
| 7 | 26 |
| 8 | 24 |
| 9 | 22 |
| 10 | 20 |
| 11-13 | 18 |
| 14-16 | 16 |
| 17-18 | 14 |
| 19-20 | 13 |
| 21-22 | 12 |
| 23-24 | 11 |
| 25-26 | 10 |
| 27-28 | 9 |
| 29-30 | 8 |
| 31-32 | 7 |
| 33-35 | 6 |
| 36-38 | 5 |
| 39-41 | 4 |
| 42-45 | 3 |
| 46-50 | 2 |
| <50 | 1 |